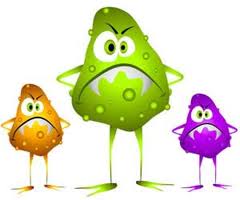 The Immune System is a collection of cells, tissues, and organs that help your body fight off illness and disease
During your Discovery visit, we will explore how the immune system defends our bodies from illness and disease and ways to prevent illness or lower the risk of getting sick.
1. Examine your patient chart, taking a good look at the image of your pathogen and symptoms of your patient.
2. Open the Specimen Identification folder. Use the dichotomous key to identify the pathogen affecting your patient.
3. After you've identified the pathogen, flip the dichotomous key page. Use the table to find out what illness your pathogen causes.
4. Write both the pathogen name and the illness it causes on your "Pathogen Defeat Sheet".
5. Click the link below for your patient to research symptoms, treatment, and prevention of illness from your pathogen. Record this information on your "Pathogen Defeat Sheet". Include notes about symptoms from your patient's chart in your notes, too.
Anna
Frankie
Bobby
John
Maggie
Beth
6. When you complete all of your research and note-taking, begin planning your pathogen presentation! Be creative, and have fun!
Interesting Links:
Big E's Grossest Hits
It's the Flu!
Villains
(Germ facts)
Handwashing Steps
Career Corner:
Immunologist
Microbiologist
Pathologist