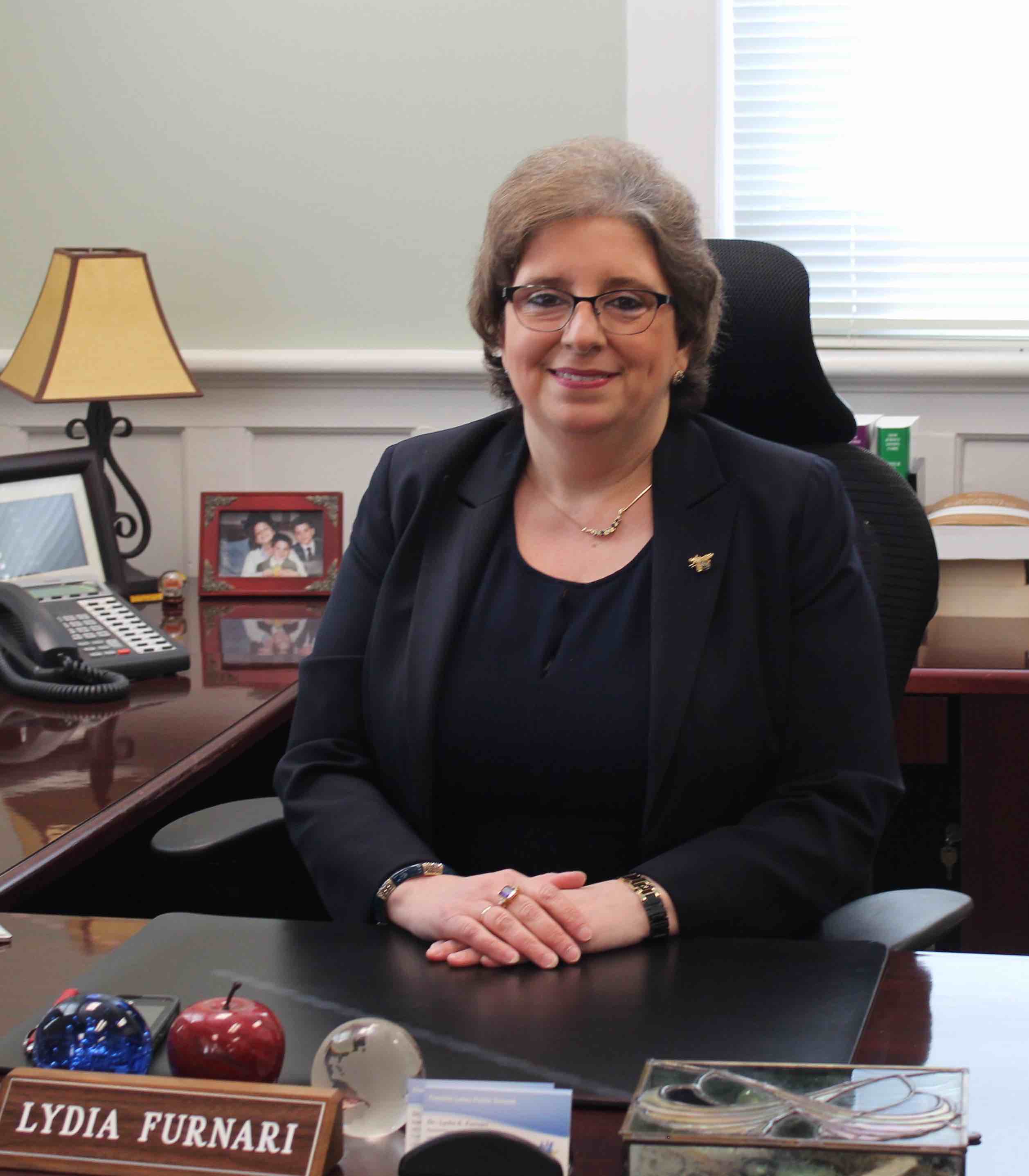 Dr. Lydia E. Furnari
Superintendent of Schools
Dr. Furnari's Welcome Back Message 2016-2017 School Year
Welcome Back!
2016-2017 has officially begun! As I visited all of the schools today, I felt the excitement that is always generated on "The First Day of School". At every school, administrators and staff eagerly welcomed your children as they arrived. There were lots of smiles as students came into school, as well as some tears; a few of these from parents dropping students off for the first time. Students were trying out their new lockers, unpacking school supplies, and listening intently to their teachers, determined to start the year off right. If these efforts are any reflection of things to come, I anticipate 2016-2017 will be an outstanding school year!
This is a time that always means fresh beginnings and new horizons to explore. It is also a time to remember that we are all here to help and support one another. As I said to our staff during yesterday's Convocation, we are a system of schools, each dependent upon the success of the others. When one of us stumbles, all of the rest of us are here to help them to steady themselves so we can all move forward together.
I invite each of you to become part of this work by supporting your child, your school and the district, in whatever ways you can. As you know, we will be engaged in a number of activities related to our new 3D-Strategic Plan, and you are once again, welcome to participate in support of accomplishing its goals, by putting our vision to "Build a learning environment where all children and adults take ownership to become imaginative, reflective, information age explorers and contributors to society," into action.
Our primary goal is to provide your children with exceptional educational experiences and opportunities. We work hard to accomplish this each and every day. I ask that you partner with us to make school one of your child's favorite places to be, and I wish you all the best in this new school year.
Sincerely,
Dr. Lydia E. Furnari
Superintendent
2016-2017 District Goals
1. Student Achievement: The Franklin Lakes Public Schools will prepare every child with the 21st Century skills to experience success and be competitive in an evolving world, by providing exemplary educational opportunities and experiences, and by promoting academic achievement, physical, social and emotional, growth of every student, as measured by the collection and analysis of a variety of quantitative and qualitative data.
How will we measure success?
• Create a pathway for district and student success
• Use and analyze multiple measures of student achievement including local and state data to inform databased decisions concerning effectiveness of programs and services
• Complete Strategic Plan action items for Year 1
2. Structural and Resource Management: The Franklin Lakes Public Schools will develop a safe, supportive learning environment that inspires academic and personal growth by encouraging innovation, creativity and perseverance, and by providing an effective and efficient infrastructure, based on sound use of fiscal, operational and human resources, as measured by an analysis of current structures and the development of actionable next steps.
How will we measure success?
• Analyze District structures with regard to enrollment, facilities, operational and fiscal resources, and create options for the Board's consideration
• Create a Continuity of Operations Plan (COOP) in anticipation of prolonged school closings due to extreme weather or other such events
3. Marketing and Communication: The Franklin Lakes Public Schools will communicate effectively with parents, students, and the Franklin Lakes community, by providing improved mechanisms for teachers and administrators to interact with parents, and for the community at large to be come more informed about the District, as measured by the creation of a more formal structure for marketing and communication.
How will we measure success?
• Create a marketing and communications plan for the District, that includes strategies for improved communication
• Include use of social media tools such as Twitter and Facebook
• Highlight special events, accomplishments and recognition of students and staff