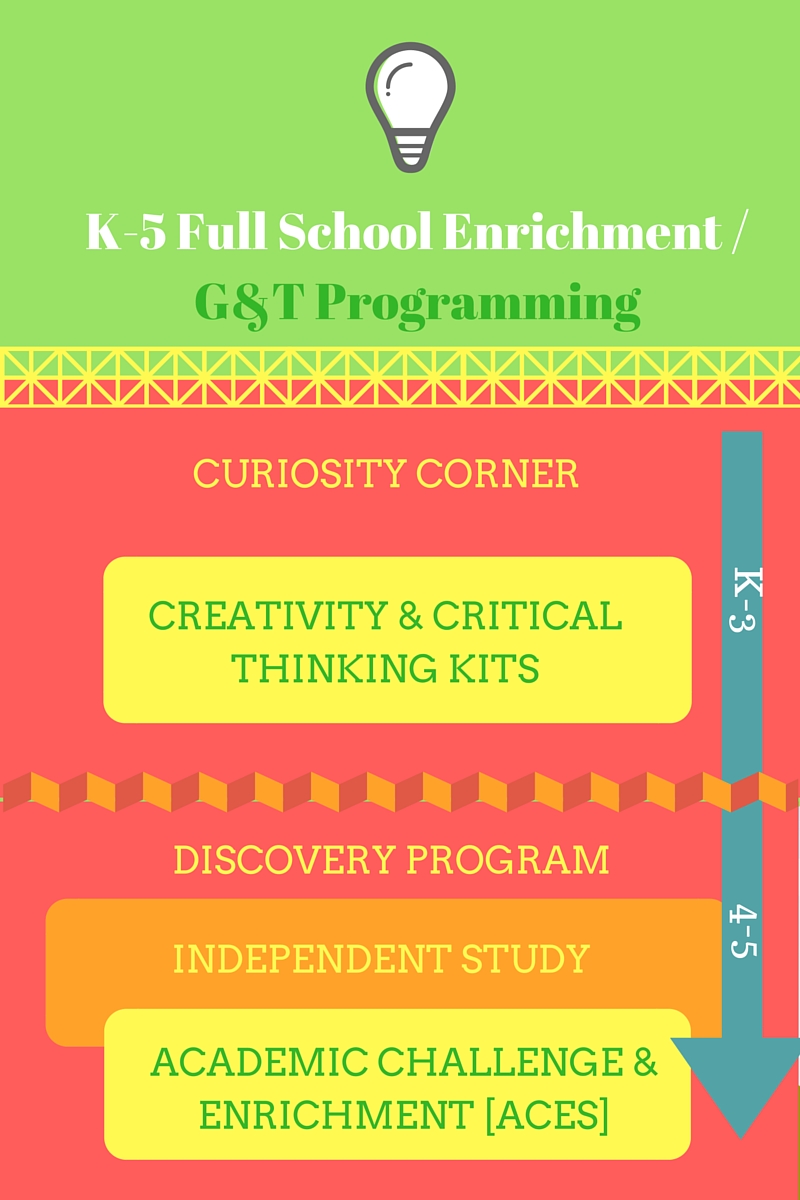 G&T Programming
In addition to K-3 and 4-5 full school enrichment programming, student who are later identified as uniquely gifted thinkers receive differentiated lessons in the regular classroom based on consultation between the classroom teacher and a teacher of the gifted. These experiences evolve through the years as students' skills begin to differentiate and become identifiable by varied assessment tools. Assessment for identification begins in the late winter/ spring of Grade 3, and data from these assessments is used to both identify gifted students and to assist teachers with classroom differentiation for all students.

Programming melds various approaches to the implementation of gifted education including:
Full school enrichment for the general population

Voluntary independent study for upper elementary students who are genuinely curious about specific topics that may not be deeply investigated through the classroom curriculum

Specialized pullout classes beginning in grade 4 for students who are identified as gifted through a multiple measures matrix

Compacted curriculum with gifted add-on activities for middle school students in each year of their middle-school education via English Language Arts in grade 6, Science in grade 7, and Social Studies in grade 8.
G&T Programming for eligible students includes:
Grades K-3 Creativity and Critical Thinking
Each K-3 classroom is equipped an activity kit for teachers to use with students who exhibit advanced levels of achievement in creative and critical thinking. These students will receive the enrichment activities based on careful consideration and evaluation by the classroom teacher in consultation with the primary grades Gifted and Talented teacher.
Grades 4-5 Gifted and Talented Pull-out Classes - Academic Challenge & Enrichment [ACEs]
Those students who qualify for the ACES pullout program meet with the Gifted and Talented teacher twice weekly for instruction. The ACES program focuses on providing instruction designed to appropriately differentiate activities and address individual strengths, learning styles, interests, creativity, and critical thinking to meet the unique needs of gifted learners.

Grades 6-8 Academic Challenge and Enrichment Courses [ACEs]
Students are re-screened in the Spring of Grade 5 for participation in the middle school Gifted and Talented Program ACES program. Those who qualify are scheduled into one daily ACES course each year. Instruction specific to the needs of gifted learners is integrated within the core disciplines of English Language Arts (grade 6), Science (grade 7), and Social Studies (grade 8) through a compacted curriculum. Typically, students engage in experiences designed specifically for the gifted learner two periods per week. They engage in discipline-specific learning in the content areas the remainder of the week.
Additional Resources Supporting Gifted Education
The criteria for entrance into ACES
, the Franklin Lakes Gifted and Talented Program in Grades 4-8, utilizes measures of Student Achievement and an assessment of learned reasoning abilities to identify gifted students. The full text of the FLPS Board of Education-approved criteria can be
accessed via
the link below.
Additionally, please click here fo
r FAQs about the CogAT.